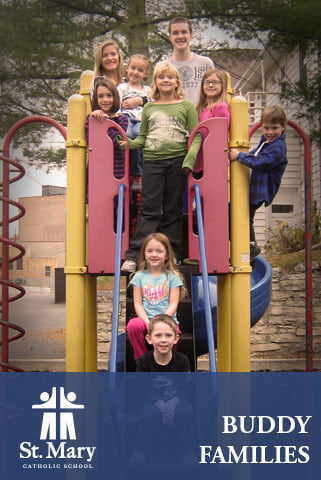 Fast Facts:
Grades: 4-K through 8
Enrollment: 165
Teaching Staff: 14
Support Staff: 6
Average Class Size: 15
At St. Mary, we prepare each child spiritually, scholastically and socially to excel at the next level. When students leave here, they are extremely well prepared for high school…and beyond.
Scholastic: The St. Mary learning environment is exceptional. We set the bar high and help each student reach it:
With a 4-K to 8 structure, our sense of community is strong and our families are very involved.
Our average class size is 15… ideal for teaching and learning.
The curriculum and instruction are both top-notch.
Laptops are incorporated into daily instruction.
A strong arts program is integrated into the overall curriculum.
Students get to take Spanish beginning in grade school.
An academic support system is in place to help meet the needs of all students; tutoring is often available during school hours.
Our on-line "Teacher Ease" program allows parents and students access to grades at any time.
Social:  Social and cultural development go hand-in-hand with academics in a supportive and family-like atmosphere.
Each child belongs to a buddy family with kids in every other grade; the older students act as mentors for the younger kids.
Students can choose from a wide range of co-curricular activities.
Organized athletics start in grade 5, giving students early access to quality coaching, and a strong foundation of fundamentals, teamwork, and sportsmanship.
Opportunities for artistic performance and public speaking are offered throughout the year, helping to building confidence and communication skills.
Spiritual:  Spirituality is the common thread that ties everything together and forms the foundation for a lifetime of personal growth.
Students benefit from having an active priest in the classroom—and from being actively involved in weekly mass.
The spiritual lessons students learn reinforce the academic, social, and behavioral lessons presented at home and in the classroom.
I will never argue curriculum or quality of teachers in regards to any of our schools in Portage. We are blessed with great administrators and teachers in all of our public and parochial schools within the Portage School District. However, I have sent my children to St. Mary for the added faith base they get with their education. My children have been allowed to pray in their classrooms until they finish the 8th grade, and their teachers are allowed to lead them in prayer! Teachers are also allowed to teach manners, respect and kindness and not have to apologize for it. Children are able to get to know God, explore Christianity and Catholicism, and learn how their faith can help them appreciate their blessings and in turn, help them with the obstacles they encounter in life.
My children receive the individual attention they deserve at St. Mary. They are not just a student, they are part of a community. Tami Burdick
When choosing the right school for our child we have concentrated on two very important points – spiritual development and academic excellence. As it turned out, our daughter receives that and so much more by attending St. Mary school. It is also a place where our child learns important values, life lessons and great respect for others. She has developed many wonderful friendships and looks forward to every school day. Seeing how important St. Mary school became for our child, we decided to get more involved. We consider St. Mary a place where our entire family gained new friendships and experiences. It was most certainly the right choice for our family. Our younger daughter Madeline will be starting St. Mary 4K program next year.
There are a great many academic reasons why I wanted my child to attend St. Mary, such as small class sizes, great academic records when they reach high school, and scholarship achievements at time of high school graduation. But after enrolling my child here what I learned was, that portion of his education was minor. The important education that my child receives on being a good human being is un-measurable. He has been taught to respect those around you. This is accomplished through programs like the school family, and everyday respect from teachers and staff. The protection of children from bullying is to the point where it seems like it does NOT exist within the school. And Yes they teach don't bully but they teach respect and bullying kids doesn't even seem like an option in these children's minds.
My child was approached by a much younger student 3 or more years younger and wanted to introduce his dad to him. My son went with him and was introduced, and I watched in amazement. Tell me another school where the children of such age disparities intermingle and respect one another that much. Tell me another school where my son would not be ridiculed for being polite to this young boy or even talking to him. This behavior is encouraged and celebrated in this school.
I know when my son leaves St. Mary that he will be well educated and ready for high school at the level I expected from this school. But it is the intangibles that are taught to these children that makes St. Mary stand out. These are things that as parents it is good to know what I try to teach at home is being not only reinforced but encouraged and taught at school. They teach much more than reading, writing , and arithmetic. They teach respect, work ethic, trust, honesty and all the things that make person a good human being.
After researching our options, we chose St. Mary because of its high academic standards and well-rounded curriculum in addition to its religious program. Equally as important, we truly feel our son is treated like a valued member of the school. As working parents, the before and after school program offers a safe environment for our son while we attend to our duties elsewhere.

It 'takes a village' to raise a child. And St. Mary is a village made up of parents that are involved, teachers that care about all aspects of child development, and students who treat each other with respect.
Today I was reminded why I brought my child to St. Mary….
This morning I watched Ava run across the parking lot to the playground. I stood there and watched her approach all the kids playing and running around the equipment. I thought to myself she looks so innocent and a little lost within the group. Just as I was thinking this, I see Karen Wilson reach down to say hello and take her hand. I watched Ava walk along Karen's side, holding her hand; walking towards the church. At the moment, I had a sense of safety/security for Ava…. I was able to get into my car with a smile and start my day knowing my child is in wonderful hands.
Feeling very blessed to be back at St. Mary!
Hi Mrs. Hahn, I just have to tell you about yesterday's experience at St. Mary because I was heartened by it. Violet and I were a bit late so we came in through the front door. Every teacher we passed through the hall on our way downstairs greeted Violet by name. I think that is especially remarkable since she is only a preschooler and hasn't been around long.
Another observation I have made is that it seems like the staff members are not only compassionate yet firm, they also have a positive, relaxed attitude and I think that is reflected in the general atmosphere at St. Mary, which I believe contributes to a more effective learning environment.
We've chosen to send our son to St. Mary for many reasons; faith, family, values, tradition, but most importantly to us it was obvious that everyone, from the teaching staff to support and administration, saw each and every one of the children as something precious. They clearly care for and value every child that walks through their doors. They also recognize that we bring our children here by choice and strive to meet and exceed our expectation in instilling values and offering them a quality education.
Jon & Sandra Brunt
Parents
St. Mary School is a wonderful village in which to raise your child. The dedication of the staff is obvious. The class sizes are small allowing for individual attention for each child. Technology is integrated into the classrooms on a daily basis. The academics are top notch… when I talk to friends who have children the same age as mine that go to other schools, their children aren't doing near the level of work that mine are at St. Mary School. The families at St. Mary School are dedicated, too and that makes such a difference; the parents are really involved with their children. And most important to me is the respect that is taught and expected from the students and staff alike. I can't imagine having my children anywhere but St. Mary School.